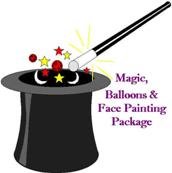 90 Minute Magic, Balloons & Face Painting Package
San Diego Kids Party Rentals represents some of the best professional magicians in San Diego, who will cater their magic show to the age of the children at the party or event and make sure that the magic show is a memorable and fun time for everyone involved! The adults will love the magic too!
This special value magic package starts with 1/2 hour of face painting/airbrush tattoos, then leads to a 30-minute family magic show, followed by another 1/2 hour of airbrush tattoos/face painting and/or balloons. This is a great combination of interactive fun and our most popular magic package!
For parties with a larger number of children in attendance, we also offer a 2 hour Magic, Balloons, & Face painting Package.
Please call us at (858) 560-2700 if you have any questions.